Cannabidiol (CBD) is a compound derived from the cannabis plant that has anti-anxiety and pain-relieving properties. CBD products generally contain little to no tetrahydrocannabinol (THC), the cannabis compound that's responsible for the "high" that cannabis produces.
Preliminary studies have suggested that a daily 150 to 600 mg dose of oral CBD could help improve symptoms of insomnia.1✅ JOURNAL REFERENCE DOI: 10.3390/ph5050529
FEATURED PRODUCT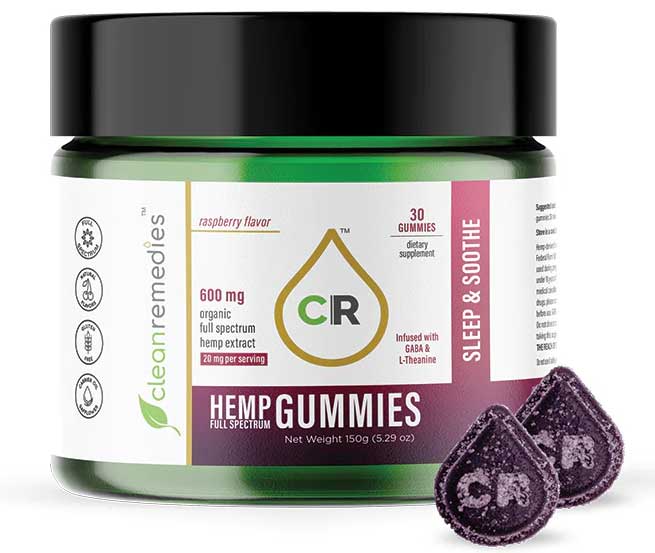 Shop Now
Sleep & Soothe CBD Gummies
Clean Remedies 600 mg or 1200 mg Sleep and Soothe Full Spectrum CBD Gummies are each infused with 20 mg of USDA Certified Organic and Kosher Certified Full Spectrum Hemp Extract along with Pharma GABA and L- Theanine to promote a restful night. As GABA and L-Theanine work together to create the ultimate chill pill, we do not use melatonin. Our gummies are crafted by hand in small batches and flavored with natural juices and colors.
Psychological stress and anxiety are often causes of chronic sleep disorders.
Research has found that CBD could help in reducing anxiety and improving sleep. The study consisted of 72 individuals, with 47 suffering from anxiety and 25 suffering from poor sleep.2✅ JOURNAL REFERENCE DOI: 10.7812/TPP/18-041
The age of the participants with anxiety was 34 years on average and the age of the participants with sleep disorders was 36.5 years on average. Most participants with anxiety were men, whereas most participants with sleep disorders patients were women.
All participants completed assessments for anxiety and sleep at the start of the CBD treatment and at the 1st monthly follow-up. Assessments were again completed by the 41 participants who had continued with the CBD treatment at the 2nd monthly follow-up; 27 participants continued with CBD treatment at the 3rd monthly assessment.
The study participants each received capsules containing 25mg of CBD every day. In the first month, 79.2% of the participants reported a reduction in levels of anxiety and reported improved sleep.
Levels of anxiety scores were reduced within the first month in 79.2% of the participants and the levels remained reduced throughout the duration of the study. Within the 1st month, 66.7% of the participants reported improved sleep. CBD was well tolerated in all but 3 of the participants.
Chronic pain is another common cause of sleep disorders.
Improvements in the quality of sleep were found in a review of 11 studies that involved a total of 1219 participants with neuropathic pain in which oral CBD was compared to standard medical treatment and/or non-medical treatment or placebo.3✅ JOURNAL REFERENCE DOI: 10.1213/ANE.0000000000002110
In another review that included 16 studies involving 1750 participants that compared cannabis-based medicines to conventional neuropathic pain medications or placebo, it was concluded that all cannabis-based medicines used in the studies were superior to placebo in reducing sleep problems.4✅ JOURNAL REFERENCE DOI: 10.1002/14651858.CD012182.pub2
The duration of the studies was 2 – 26 weeks and in 10 of the studies, an oral spray with a CBD and THC combination was compared to conventional neuropathic pain medications or placebo.
Two of the studies compared a synthetic cannabinoid that mimicked THC, 2 studies compared herbal cannabis that was inhaled, and 2 studies compared plant-derived THC.
How much CBD to use for sleep?
There is no established CBD dosage and one person can respond quite differently than another person taking the same dose. The CBD dose used depends on various factors such as body weight and sensitivity to CBD as well as the nature of the sleeping disorder.
The majority of studies have involved CBD doses of between 25 to 1,500 daily milligrams. It's advisable to start with a low dose and gradually increase it until finding an effective dose.
Is it safe to use CBD for sleep?
Studies have determined CBD to be generally regarded as safe, with possible and uncommon side effects being changes in appetite, fatigue, and diarrhea.
This is a sponsored post on behalf of CleanRemedies